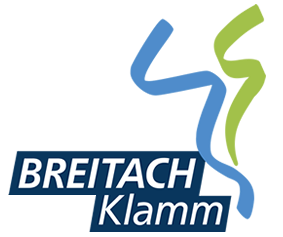 Program and special events
Explore the Breitachklamm on a guided torch-lit hike, book a guided group tour, watch a fascinating film about the history of the gorge or experience the Breitachklamm up close and personal in our "Bergschau".
Gratis film screening
"Die Breitachklamm im Wandel der Jahreszeit!" (duration: 17 minutes) – a filmlet with fantastic pictures about the Breitachklamm
Bergschau
The "Bergschau" is an interactive exhibition located at the entrance of the gorge in Tiefenbach where you can see an extensive view over the Breitachklamm. The interactive exhibition explains the fascinating formation and the complex ecology of the Breitachklamm. The center peace of the project is a lifelike model of the Breitachklamm. In person, let the water run through the model of the gorge.
Guidance through the Breitachklamm
Starting with 10 people, the Breitachklamm club offers a guided group tour with modern audio headsets through the natural wonder of the Breitachklamm. The price per person including admission is € 8,00. We ask that you register prior to your visit via the form you will find below.
In winter, you have the unique chance of experiencing the Breitachklamm from the glowing of fire during a torch-lit hike. This spectacular lighting allows you to view the snow's sparkle and reveals ice shapes cast by mystical shadows: truly an unforgettable adventure. The price per person including admission is € 6,00. Children between the ages of 6-15 will receive a discount of 50%.
Registration prior to the torch-lit hike is not required. The meeting point is at the entrance building in Tiefenbach at 7 p.m.
There is a bus connection with RVA from the bus station in Oberstdorf to the Breitachklamm: outward journey is at 6:35 p.m. – return journey is at 8:45 p.m.
You get free transportation with the 'day ticket Oberallgäu' and 'ÖPNV ticket (available at the tourist information in Oberstdorf).
OUR TIP:
Call the information phone number +49 (0) 8322/ 4887 in case of snowfall, rain or snow melt.